Pastimes: Her Present.
FEBRUARY 2, 2018- MAY 31, 2018
A woman's place. Where we were then and where we are today looks very different in many lights. This exhibition reflects upon pastimes but with a modern twist. While once considered a source of entertainment or hobby - these 5 female artists show us how a return to pastimes turned into their livelihood.
Many thanks to these local Virginia women for their revival of great art forms and breathing new and refreshing life into them.
GALLERY HOURS: BY APPOINTMENT ONLY - 614.679.9997 | CONTACT@MICHAELINESANDER.COM
 
(@tubelofiberanddesign)
'Campfire Blanket', 2017
Justine McFarland is a trained realist painter who started weaving in 2011 during a teaching internship. She grew up in Pennsylvania, and moved to Vermont in 2012 after graduating from the Maryland Institute College of Art to pursue her passions in the arts teaching at The Putney School. It was in Vermont that she honed her skills as a weaver and developed a love for farming. Justine learned how to grow, harvest, and create natural dyes from plants, as well as spin her own yarn. Now living in Richmond, Justine has worked to develop a portfolio of woven goods that speak to the entire process of farm to finished textile. Justine gathers her inspiration from nature, and is committed to using fibers and supporting mills and companies that have high environmental and ethical standards.
(@nikkigalaponart)
'Spear', 2014 and other selected works
Nikki Galapon is a visual artist living in Glen Allen, Virginia. Her education is built upon a strong modern design foundation while studying at the Virginia Tech School of Architecture + Design, which emphasized the teachings of the early 20th century German Bauhaus architecture and design school. She went on to receive her Master of Architecture from the Savannah College of Art and Design in 1994.
She works in oil, acrylic, watercolor, ink, mixed media and collage, often combining methods and experimenting with new ones. Her architectural training is apparent in many of her works as she often creates a system or set of rules to serve as the underlying structure for the piece which can then be built upon. Her works range from vibrant textured abstract expressionist oil paintings to highly detailed drawings of geometric constructions. Her works are part of private and public collections worldwide
(@kkoconis)
'Untitled', 2017
Kate Koconis lives and works out of her home studio in Providence Forge, VA. She is responsible for all things Little Black Sheep Studio. All the ideas, designs and finished products come from her two hands. She has been weaving for over 10 years now, and loves it just as much as the first day she discovered this craft. Using natural materials and traditional techniques, Kate creates modern unique pieces that can fit into any space. Her goal is to make beautiful items created honestly, to make you feel at ease with your surroundings. Each piece is one of a kind, handmade with the utmost of care, to ensure they will last a lifetime (or more).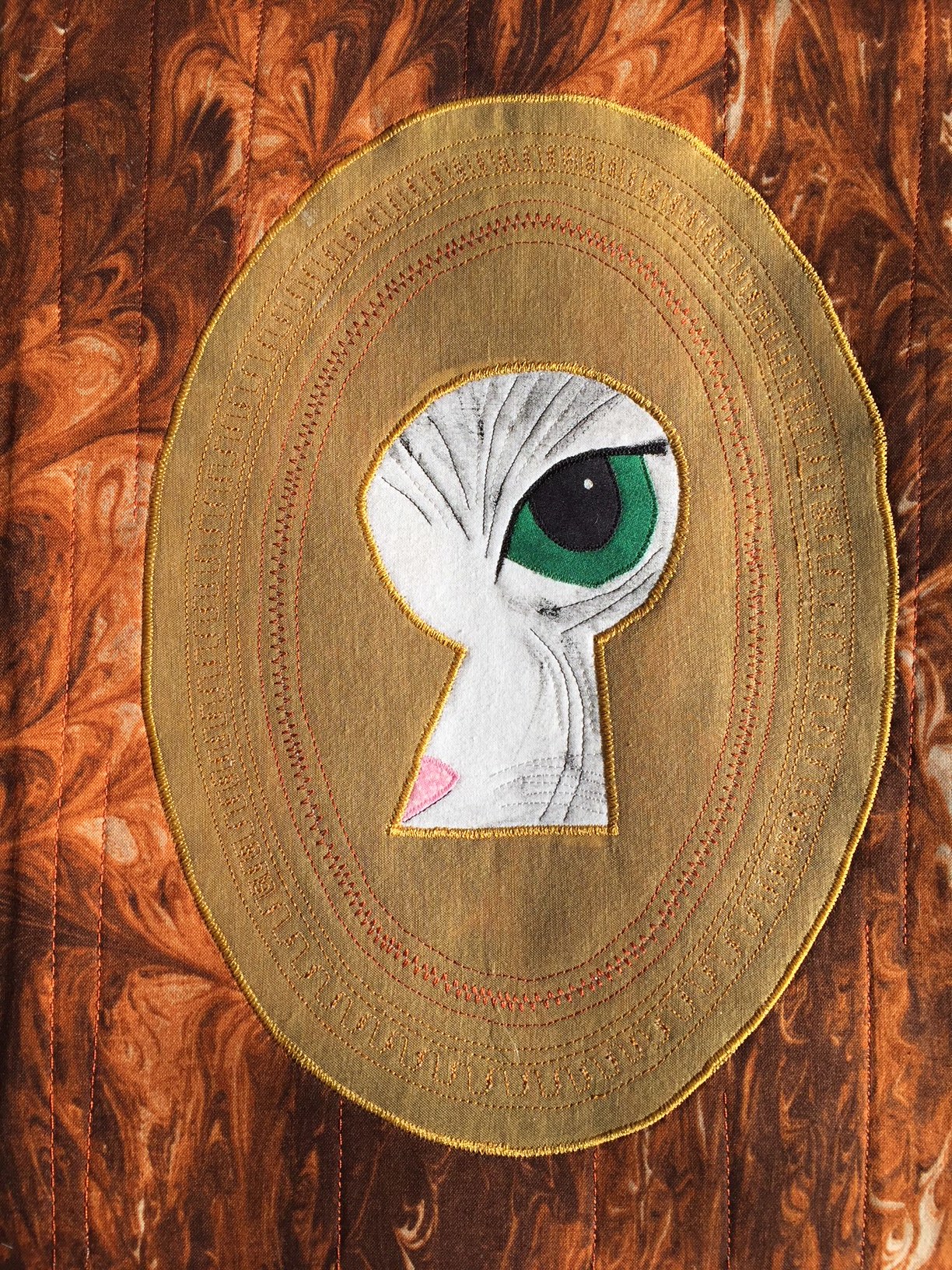 (#BARBARASKOLAUT)
'Keyhole Kitty', 2016
Although she has sewn all her life, Barbara Skolaut only started quilting in the late 1990s when she saw some art quilts and decided she wanted to make her own. She often makes realistic butterflies, but also like to make quilts in unusual shapes, such as a grand piano or an open umbrella. She recently also started making whimsical small art quilts mounted on stretched canvas, which can be hung like regular pictures. Barbara is a paralegal in her non-quilting life.
(@nezbouck)
'Saccharine', 2017
Ynes Bouck is a recent graduate from Virginia Commonwealth University. She majored in Craft/ Material Studies with a focus in Metalsmithing. Her cake-like objects embodies trompe l'oeil, to deceive the eye, by replicating the colors, textures and extravagance of cake. She uses acrylic paint as the "icing" of her works and enameled metal for their candy-like shine and shapes. Her work speaks about indulgence, fantasy, gluttony and temptation through an array of sugar-coated pastels and hard candy.